This guide will demonstrate how to easily add a Mailchimp integration to your EZBiolink page. This can be useful to collect customer email addresses to send newsletter and perform further emali marketing. Please see the video below of follow the guide.
2. Click on "Create Link"
4. Click on the three dots at the right and click "Edit"
5. We will integrate the form first. Please see this help article to customize your button and this article to add a terms page (optional)
6. Scroll to the bottom, and find the "Mailchimp API Key" and "Mailchimp List"
8. Click on the "Extras" dropdown and select "API Keys"
9. Click on "Create a Key"
10. Copy your API key, which should look like below
11. Go back to your EZBiolink page and paste the API key to your "Maichimp API key" box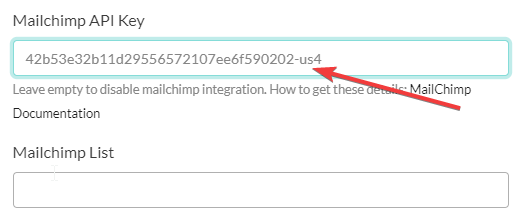 12. Next, let's add the last component, which is the Mailchimp List ID. This list ID is used to add your customer email to your desired Mailchimp list. Usually, free Mailchimp accounts allow for only 1 list, but if you have a premium account, you can have multiple.
13. Go back to your Mailchimp account and click on "Audience"
14. Then click on "Manage Audience" and then "Settings"
15. Scroll to the bottom of the page and copy the "Unique ID for audience"
16. Paste that "Unique ID" to your EZBiolink "Mailchimp List" box and press "Update"
17. This completes the EZBiolink + Mailchimp integration. Now, when your customers enter their email address by clicking the opt-in box on your Biolink page, their e-mail address will be automativcally added to your Mailchimp!
If you have further questions, please feel free to reach out to us at any time via the chatbox or email us at [email protected]